Archive for September, 2010
The OffRoadPakistan team is organizing a medical camp in Moro on Sunday 26th September 2010. With the increased influx of patients from Dadu and the existing strain of IDP' already in the area it has put a heavy strain on the existing resources in Moro and there is definite need for medical support to come and help ease the suffering of the people.
A Karachi-wide appeal is being issued to any Doctors, House Officers and Medical students to come join this day long effort. Plans are underway to setup a day-long medical camp in Moro, some four hour drive from Karachi at the District Hospital Moro on 26th September 2010
Doctors and the medical support team are requested to come early on Sunday morning to the hospital and help volunteer for the entire day. If you are a medical volunteers and would like to help, then please fill this form.
On September 28, 2010 Khalid Mahmood, Director of Labour Education Foundation (LEF), and member of Labour Relief Campaign (LRC) will be visiting the San Francisco Bay Area to speak on  the current flood crisis, relief efforts, the demand to write off loans and the condition of peasants and labourers in affected regions.
When: Tuesday, Septembr, 28, 2010 at 6:30 pm
Venue: Pakistan American Culture Center
1590 Oakland Road, Suite B213, San Jose,Ca [Map It]
Host: Village Pastels
Co-Host: SA Relief ,  Culture Conflict Forum, PACC
Registration: $15 (optional)
(Funds are collected by Paksef, which is a 501(c)(3) tax-deductible non-profit Corporation in California.  Proceeds go towards Pakistan Flood Relief Fund)
Submitted by Awab Alvi
PkRelief Mission #7 by OffroadPakistan and 70-GDP group embark on Flood relief mission to Jacobabad, Sindh
OffroadPakistan team – Awab Alvi, Faisal Kapadia, Rehan Bandukda, Nabil Jangda, Aman Ashraf, Hamid Omar, Taimur MIrza & Tanya Mirza.
70th GDP Group included Cmdr Raza, Capt Shahid and his amazing sons along with a few of their friends.
Kudos to the entire team for a Job well done on the 3rd day of eid
On August 8th, 2010 the 4×4 OFFROAD club based out of Karachi went into action and launched the Pakistan Flood Relief campaign in partnership with  SA Relief and  Behbud Association.
Since launch the campaign  raised over $141,000 with $30,000 raised online via SA Relief.
To date we have completed 7 relief mission to Thatta, Sukkur, Shikarpur, and Jacobabab.
Online donations are being collected by Paksef, a 501(c)(3) non-profit Corporation registered in California. On the ground the campaign is being led by Awab Alvi and Faisal Kapadia.
Mission briefs can be reviewed here .
Donate to 4×4 OFFROAD General Flood Relied Fund:
Donate to 4×4 OFFROAD Fund to rebuild Shikarpur Civil Hospital:
Online donations  are being collected by PAKISTAN SCIENCE & ENGINEERING FOUNDATION, a 501(c)(3) non-profit tax-exempt corporation registered in California. Tax-ID # 20-2950808. For info contact: info@sarelief.com
SA Relief and Paksef are trademarks owned and operated by Pakistan Science & Engineering Foundation
On September 9th his excellency, President Barack H. Obama, in his Eid message to the American-Muslim community appealed to all American's
On this Eid, those devastated by the recent floods in Pakistan will be on the minds of many around the world. To help in the tremendous relief, recovery, and reconstruction effort for the floods, all Americans can participate by donating to the Pakistan Relief Fund at www.state.gov.
The President's message can be found at www.america.gov also we've include the text below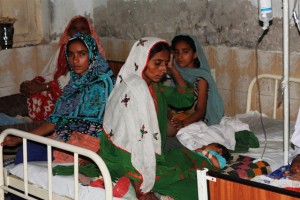 Dr. Awab Alvi along the the OffroadPakistan.com showcases the dire conditions in the Pediatric Ward of Civil Hospital Shikarpur. Two wards with 16 beds housing 60-70 kids are truly deplorable conditions, the World community needs to help save these children and thousands more. Lets start with one hospital immediately and do more DONATE NOW.
All funds are collected by Pakistan Science & Engineering Foundation (Paksef) which is a California not-for-profit  Corporation registered under section 501(c)(3) of the Internal Revenue Code.
The campaign is being led in partnership with 4×4 OFF-ROAD Pakistan and Behbud Association in Karachi.
By Faran Tahir
"The eyes see. The ears hear. Yet somehow, the mind struggles to grasp the full dimension of this catastrophe. Almost 20 million people need shelter, food & emergency care. At least 160,000 square kilometers of land is under water – an area larger than more than half the countries of the world. The needs are great, and this disaster is far from over."
As the Pakistan Floods, the world's worst natural disaster, unfolds and horrific images emerge, we cannot help feeling overwhelmed and also feeling a great sense of responsibility. 1,639 people are confirmed dead, 20 million people are displaced and at risk for disease and even death. Out of which 4 million children are at high-risk for water borne diseases. These staggering numbers just keep growing as this catastrophe keeps unraveling. To put this in context, Greater Los Angeles has 14 million people alone. If we knew of an impending disaster heading to our cities, wouldn't we help?

Read the rest of this entry »
Faisal Kapadia and Dr. Awab Alvi head to Sukkur and Shikarpur along withoffroadpakistan & SA Relief to deliver relief to the affectees in the region. During the trip they produced the 22nd episode of the Laidback Show